The LAWYER in okc with big firm experience and small firm attention.

We are ready to meet with you.
The Law Firm of Neelam A. Patel, PC is available, at your convenience, to help you with your legal planning, concerns, or problems.
Our office is centrally located in Oklahoma City:
Near four major interstates: I-35, I-40, I-44, and I-235;

Serve clients from Ponca City to Guymon over to Muskogee and down past Ardmore and all areas between and beyond;

Our practice is not limited to Oklahoma.
Schedule A Consultation
Have a quick question? Email us and we will get back to you shortly.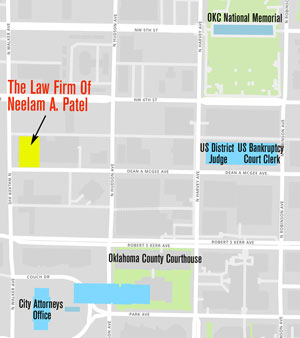 Our office is centrally located.
The law firm of Neelam A. Patel, PC is just blocks from:
Oklahoma County Courthouse
Oklahoma County District Court
US District Court Clerk
US Bankruptcy Court Clerk
US Appeals Court Judge
Oklahoma County Court Clerk's office
Oklahoma County Civil Court
Oklahoma County Probate Court
Communication of information through this website does not create an attorney-client relationship, is not an offer to represent you or to provide you with legal services, and is not intended to provide or constitute legal advice before establishing an attorney-client relationship as evidenced by a signed engagement letter.
CLICK HERE TO SEE FULL TERMS OF USAGE